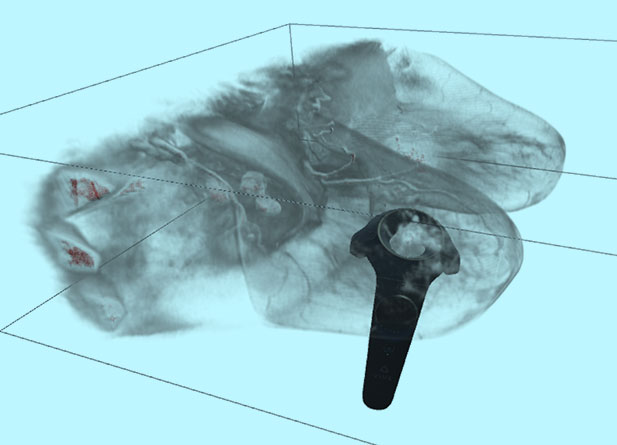 CONSULT OUR JOB AND TRAINING OFFERS
Three-Dimensional Image Processing Opportunities (Internship / PhD / Engineer / Post-Doctoral Fellowship)
Internship / PhD / Engineer / Post-Doctoral Fellowship
The DIVA project aids scientists and doctors in the interpretation of three-dimensional imaging data using immersive visualization techniques. This multidisciplinary project is localized in the Decision and Bayesian Computation laboratory at the Institut Pasteur.
Today we are able to image living systems from the scale of individual molecules to that of entire human beings. A major challenge for scientists and doctors alike is giving sense to these images that are typically complex, non-standardized and unstructured. A solution to this problem comes from the combination of human perception using immersive visualization (e.g. virtual reality), user-data interaction and machine intelligence. Our quantitative analysis platform, DIVA, embodies this approach by placing the human "in-the-loop" in order to tackle the nontrivial challenges associated with handling volumetric images. By virtually placing users inside rich 3D environment based on their experimentally acquired imaging data, DIVA enhances existing image processing protocols and opens the door to novel forms of analyses. This tool is compatible with all tomographic image types, whether from an MRI, CT or confocal microscope.
We are looking for a highly motivated candidates who work well in teams and is, notably, interested in contributing to a highly interdisciplinary project.
Primary themes for opportunities in the DIVA project include:
Image Processing
Machine Learning
Data Visualization
C / C++
Object-oriented programming
Python / MATLAB
Computer Graphics
Game Design
ImageJ / Fiji
Internship: 3-6 months (flexible start date)
PhD: 3 years (application begins in early 2020 for September 2020 start date)
Engineer position: 12+ months with possibility of extension (flexible start date)
Postdoctoral position: 18+ months with possibility of extension (flexible start date)